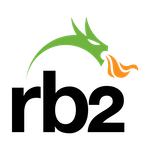 rb2 Is a Part of Virto Commerce Partner Community
rb2 is a technical development agency that helps customers move from an issue into technical solutions and also develops & integrates these solutions. With a total of more than 90 professionals, rb2 can assemble multidisciplinary and scalable teams to tackle various technical issues and development projects. Have a look at the Inktonline and FreeBees case studies.
rb2 creates and guides the development of these solutions from its office in the Netherlands (Purmerend) with a team of architects, technical consultants, lead developers and delivery managers. The actual software development takes place (under direction from Purmerend) in its offshore development centers in Portugal, China, and Nigeria.
rb2 is a trusted partner for custom development. rb2 also guides and implements ecommerce, loyalty and/or subscription platforms. For example, rb2 invents and builds platforms for GoBear, Philips, Lavazza by Bluespresso, Meetingselect, Meetingselect, DAF and T-Mobile, among others.
Region: EMEA, Netherlands & APAC
Industries: Wholesaler / distributor
Read our Lavazza case study →