Virto Commerce




Cloud-Native Marketplace



The only way to deliver a unique customer experience
over the long term is to grow your own ecommerce solution
on top of a reliable enterprise ecommerce platform
Everything you need to run your own online marketplace

Enterprise-ready solution that allows to build your own marketplace with the custom business model and unique user experience


Create your custom marketplace model

Ability to delegate any function that your employees can perform to seller's users. Possibility to limit your seller with a variety of objects and actions he is authorized to work with.


White label solution for niche marketplaces

By using Virto Commerce as a white label solution you can create your own design and draw absolutely unique user experience that would be a real differentiator.


Seamless connectivity for sellers, buyers, service providers

Virto Commerce allows suppliers and customers to connect via API directly and get access to any function you would like to delegate: managing products, pricing, inventory, promotions, customer segments.

75% of B2B companies in 2021 report they are developing a marketplace of their own.
Why enterprises trust Virto Commerce Marketplace?

Start delivering unique user experience within a few months and continue to improve your online marketplace without any restrictions.


Resolves multi-channel scenarios of any complexity

Provide any B2B or B2C scenario in web, mobile, chat bots to your sellers and buyers or just let them integrate to your marketplace directly for 100% seamless connectivity.


Trusted by enterprises around the world

Marketplaces based on the Virto Commerce platform are used by enterprises around the world to apply their unique business models and provide the best user experience to their customers.


Absolute freedom for your digital strategy

Cloud-native Virto Commerce Marketplace provides absolute out-of-the-box flexibility, solves critical challenges, and gives a total freedom of integration with any ERP, marketing tools or AI services.

Discover how
Standaard Boekhandel

,
Belgium's largest bookseller launched its online marketplace of approximately 15 million products with further extensibility opportunities.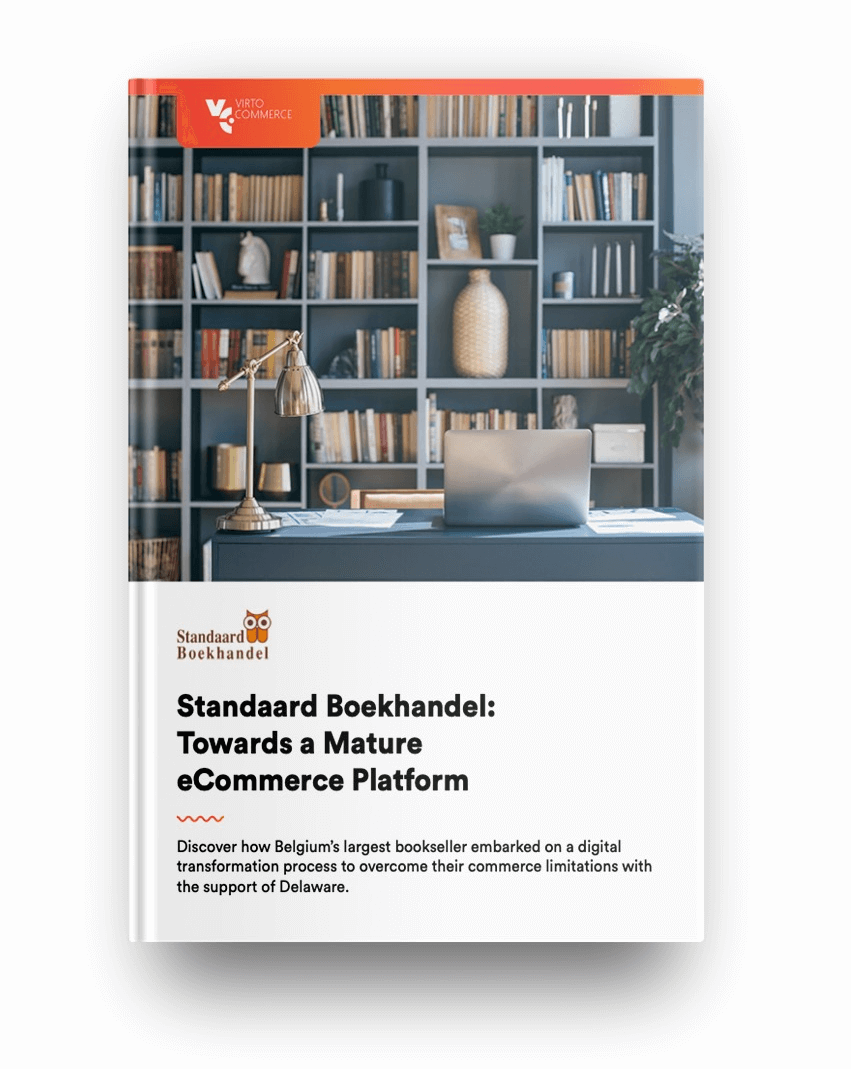 The main features of the Virto Commerce Marketplace

Personalized digital catalog management
Rich digital catalog management functionality with flexible taxonomy and personalized availability that can be easily integrated with ERP, external catalogs or an enterprise PIM engine.

Pricing and marketing for B2B and B2C scenarios
Offers customized pricing rules of any complexity for purchasing companies, so that every user of the company concerned can see their own products, prices and promotions.

Merchandising
Multiple options for up-sell and cross-sell technologies including flexible management of products association lists and integration with AI recommendation services.

Checkout, order and stock management
Creating order drafts, submitting orders, reordering, submitting quotes and real-time access to order status makes everything 100% transparent for your customers.

B2B specific scenarios
Account-based pricing and marketing, flexible role-based management, customized or contract-based access to products and services, full access to business data in the cabinet.

B2C specific user scenarios
Anonymous user checkout, public-use coupons​, subscriptions, social login, split shipments and other B2C specific features required to make your marketplace works as a proper retail solution.

Integrated with best-in-breed search engines
Out-of-the-box integration with the best search solutions on the market including Elastic Search and Azure Search.

Support friendly
You can always check a log history or just log in on behalf of a seller's user, see what he sees and solve the problem or simply help make an order.

API integrations for your sellers and buyers
Absolute freedom in API integrations allows that any function available in the marketplace is available through API: catalog, price, promotions, customer management, merchandising, ordering etc.

The most extensible B2B eCommerce Platform is just a few clicks away.