B2B Online Marketplace
B2B-first technology that delivers an outstanding customer experience. Bring your business to the next level with our B2B ecommerce software.
Trusted by World-Leading Businesses as the Optimal B2B eCommerce Solution
Expand Your Market Reach and Unlock
New Revenue Streams
Multi-Channel Complex Scenarios
Create B2B or B2C scenarios of any complexity on the web, mobile, and chatbots. Grow the number of merchants, diversify your offering, and test new products, services, and ideas risk-free.
B2C-like Customer Experience
Differentiate your business with unique B2C-like CX and build a strong community of buyers and sellers. Provide a range of diverse self-serve options and offer helpful value-added services to your clients.
Standalone Marketplace
Purchase a standalone solution or add Virto Marketplace to any existing ecommerce platform and enjoy a highly scalable, extensible, modular, and composable marketplace platform.
Marketplace for goods
Manage seller and buyer onboarding and allow sellers to easily manage their stores, customers, products, orders and financials.
Marketplace for services
Onboard contractors and service providers and provide your customers with the right service for the right price at the right time.
Marketplace for B2C ecommerce
Meet multiple digital commerce needs of your customers by offering competitive pricing, expanded catalogs, and customized value-added services.
Marketplace for B2B procurement
Offer business buyers a seamless purchasing experience with features like account-based pricing, distributed order management, split-shipping, and more.
Simple & Efficient Personalized Vendor Onboarding
The solution offers a complete list of vendors available for overview, management, and categorizing. Assign a separate catalog category to each vendor, group and categorize, easily manage product approval policy and control all vendor processes in one place.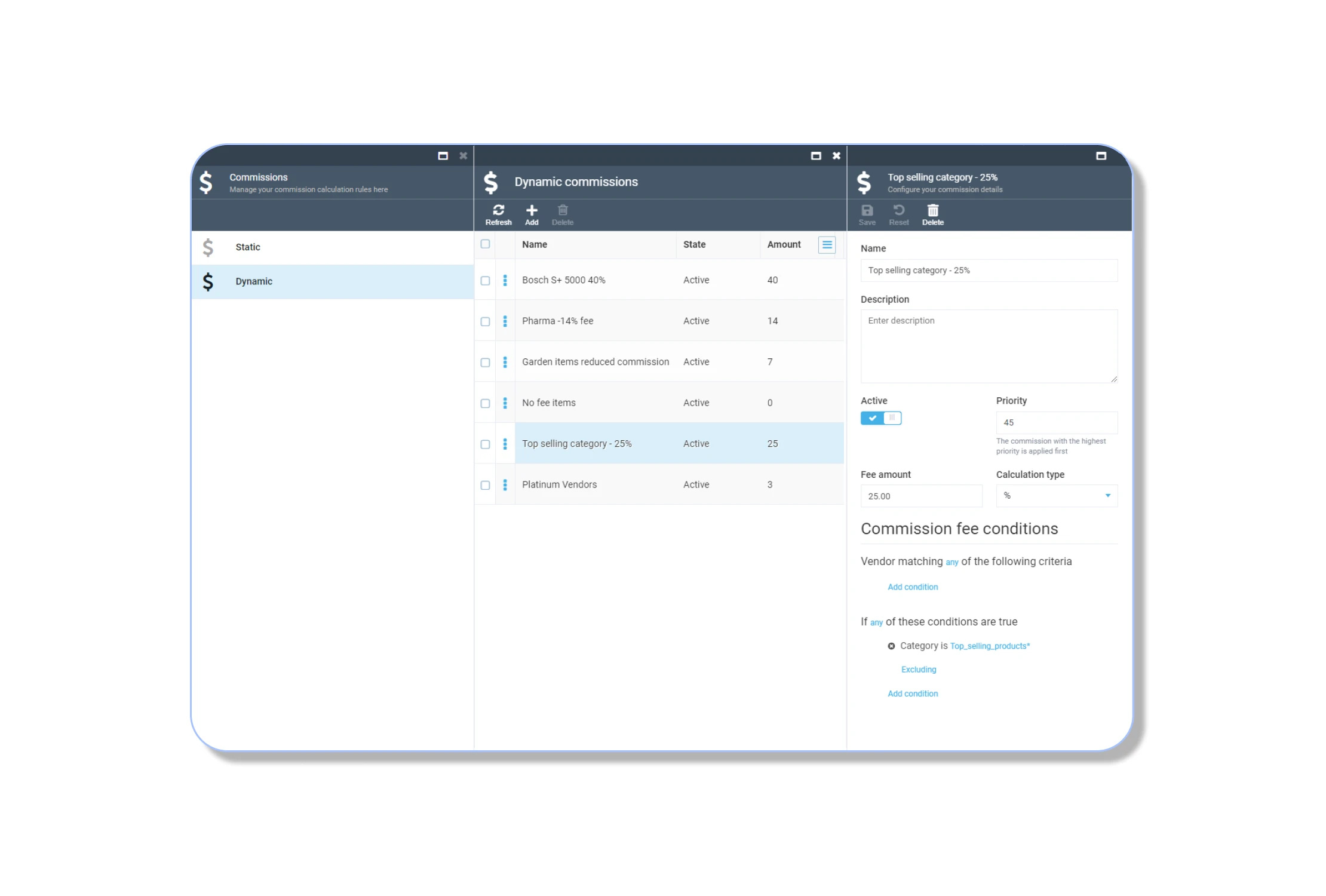 Flexible Commission Configuration
Easy static commissions configuration. Dynamic commissions upgrade automatically based on vendor info, category, or product details. Create active commission rules for each product or type or override static commission with dynamic fees.
Three Reasons to Invest in Your Enterprise Marketplace
Improve
Efficiency & Cut Costs
By connecting buyers and sellers on a Virto-powered platform, you create a unique environment that streamlines procurement workflows across channels, increases efficiency and transparency of an entire supply chain, and decreases purchasing and operational costs for all parties.
Ensure
Business Growth
Virto Marketplace unlocks new revenue streams, allows you to reach a wider market, enriches and enhances your product offering, improves relationships with buyers and vendors, and offers many other opportunities for growth.
Improve
Customer Experience
Virto B2B online marketplace with B2C-like shopping excellence gives you a tremendous competitive advantage, improves customer experience, provides valuable insights into buyer behaviour, and increases sales and revenue.
Want to learn more about the B2B ecommerce platform?
Book a personalized cloud demo to unlock the full potential fo your business. If you're interested in how we do that,
feel free to contact our experts.
Personalized Digital Catalog Management
Feature-rich catalog management with flexible categorization and personalization options that can be easily integrated with
ERP
, external catalogs, PIM, and other systems.
Checkout, Order and Stock Management
Order drafts, order and reorder forms, RFQ, and real-time access to order status make order management entirely transparent for both vendors and buyers.
Merchandising
Multiple options for up-sell and cross-sell and integration with different
AI
/ML recommendation engines.
Integrated with Best-In-Breed Search Engines
Out-of-the-box integration with the best intelligent search solutions including Elasticsearch and Azure Search.
Pricing and Marketing for B2B and B2C Scenarios
Customizable rules of any complexity give access to only contractually agreed-on products, prices and promotions for specific customers.
API Integrations for Your Sellers and Buyers
Absolute freedom in
API
integrations. Any marketplace functionality is available through API: catalog, price, promotions, customer management, merchandising, orders etc.
B2B Specific Scenarios
Account-based pricing and marketing, flexible role-based management, customized or contract-based access to products and services, and full access to business data in the account.
B2C Specific User Scenarios
Easy checkout process for anonymous and registered users, social login, sharing options, and other B2C-specific features required to make your marketplace work as a proper retail solution.
Role-Based Vendor Access for Easy Product Management
Virto catalogs support physical and digital products, different regions and currencies, easy import and vendor access. Simply assign the needed role to your vendor, and they will be able to manage their stocks while you still can control the process.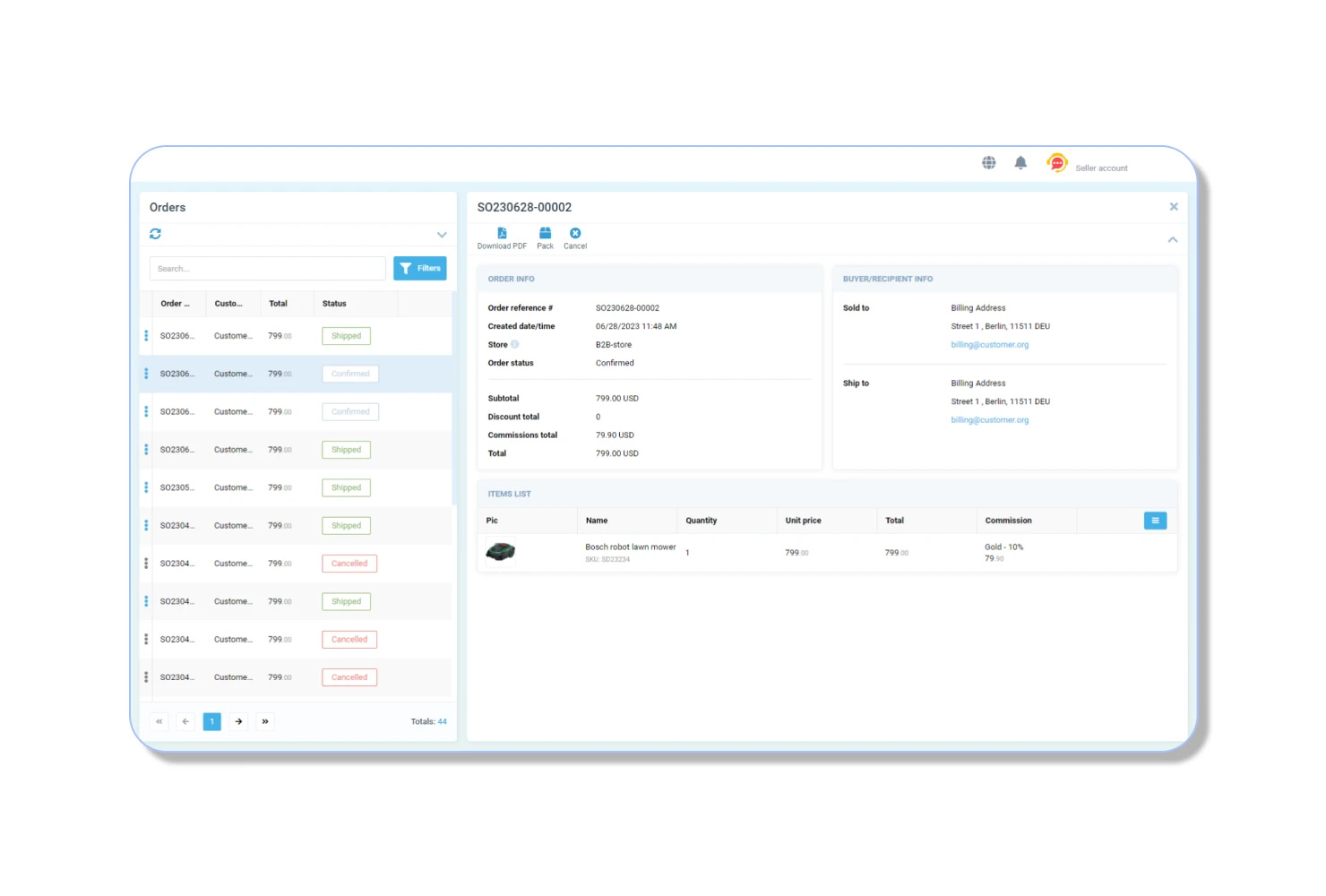 Easy Order Processing and Full Control
Besides standard functions, the Orders functionality allows for order processing and overview. Once the new order appears, you will get notified about it immediately.
Personalized Offers and Multiple Currencies
Vendors can overview and manage their offers. Personalize these offers with tier pricing based on volume, discount prices and special sales conditions. Multi-currency pricing is available.
Case Study
Standaard Boekhandel's Success Story
Digital Transformation of Belgium's Largest Books Seller with Virto Marketplace.
A Few Words From Our Clients
We were looking for a 100% customizable .NET platform with superior support options. By choosing Virto Commerce we successfully launched the website, our clientele has become more engaged, and we have increased the turnover.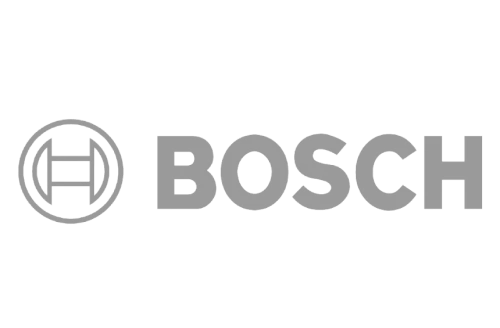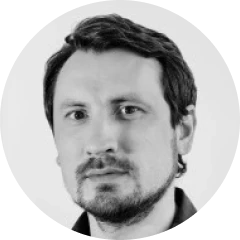 Sobir Djaffar
Director of Digital Products
Virto Commerce is a core part of rapidly expanding portfolio of digital sales solutions since 2018. Virto Commerce brings flexibility and speed to market and copes well with our often complex market dynamics. It allows us to serve our customers better, faster and smarter.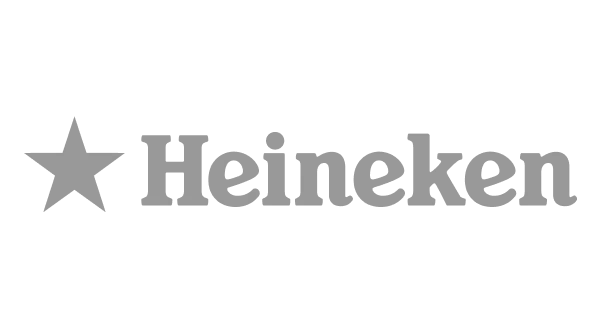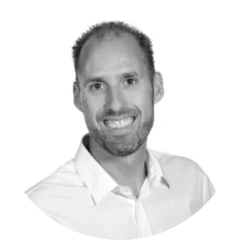 The value of the Virto Commerce platform has been tremendous for us, specifically in enabling us to craft a flexible B2B solution without short- and long-term limitations. Virto Commerce has been a great partner for us because they are ready to deliver all B2B scenarios and out-of-the-box technologies.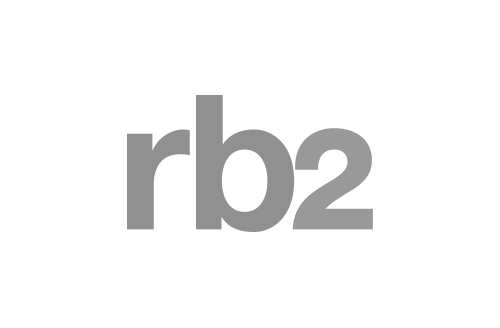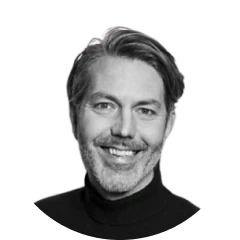 We only adopt technologies that easily enable new business channels, flexibly customize product catalogs, and accurately track overall sales performance and Virto Commerce solves all of these.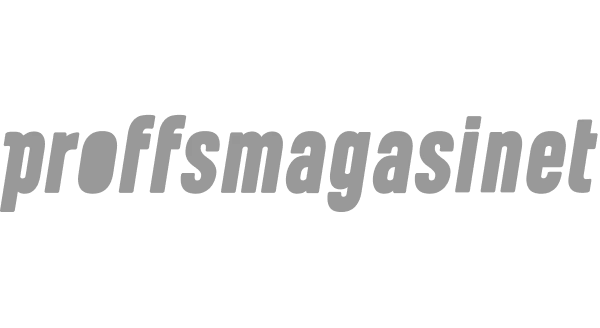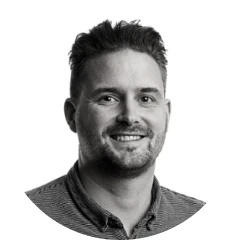 Michael Theebe
Marketing Manager
Virto Commerce was the best fit for De Klok Dranken as it combined cost-effectiveness with the functionality, flexibility, and scalability – today and in the long term.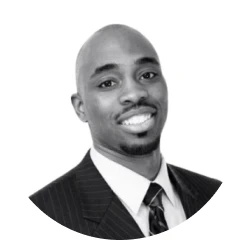 Isaac Barnes
Vice President
We chose Virto Commerce for the Executive Office of the US Government supply chain solution because it is the only platform that could meet our business user requirements and the technical requirements of being customizable, flexible, secure, open source, and built on a Microsoft .NET technology stack.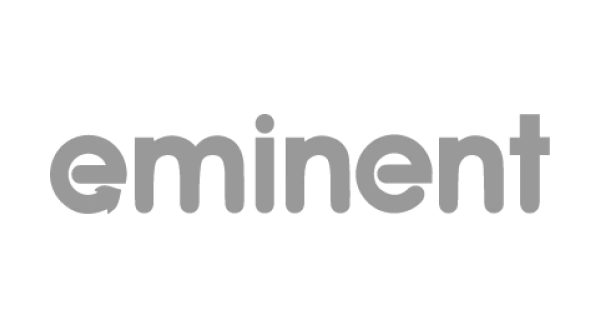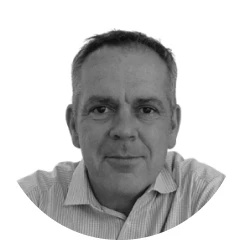 Virto Commerce has helped us completely rebuild our marketplace solution. Our Virto Commerce Catalog now covers all our complex marketplace scenarios and has materially increased end User eXperience, unlocked new revenue and decreased maintenance cost. Using GraphQL and Elastic Search is just awesome!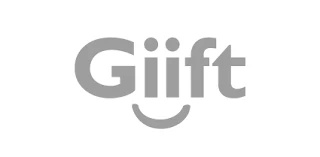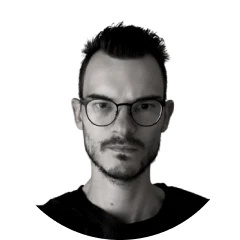 With Virto Commerce, we have easily extended the product offering and improved the search functionality for their two brands. In short, we found a .NET eCommerce platform that is capable of processing a product catalog of over 15 million products and customer orders in 207 fulfillment centers without any hurdle.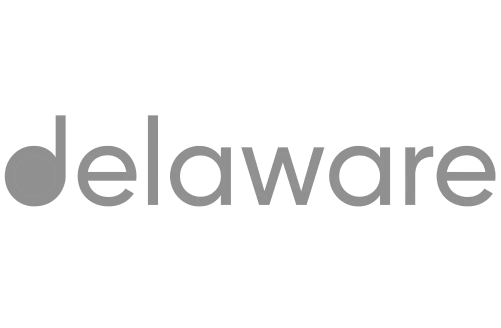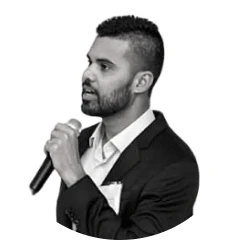 Chetan Ramachandra
Development Manager
Virto Commerce offers a unique architectural approach that has infinite adaptivity. Everything is just doable on Virto. So far, we have added more than 50 modules and extended our platform without any limitations. Each time we can confidently say "yes" when the business asks for new features.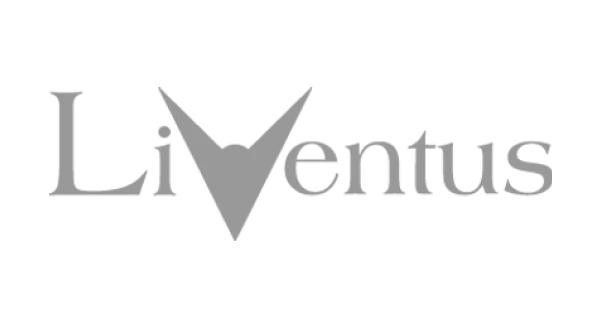 Learn more about B2B ecommerce platform
Book a personalized product demo with Virto experts.
Book Meeting
B2B eCommerce Platform FAQ