Composable ecommerce
Compose ecommerce that perfectly suits your needs
Add new business value instead of replacing the existing one. The best customer experience is also one of our most essential goals.
What is composable ecommerce?
The composable business in retail, distribution and manufacturing consists of an agile approach to B2B and B2C interaction for better collaboration, teamwork and implementation of business processes in a flexible modular architecture. In practice, this means applying the best applications and IT components available on the market and seamlessly integrating them into a profitable ecommerce platform. The ability to run a composable enterprise is vital for businesses in uncertain times and as a result of major changes in the customer experience.
The upcoming trend is to shift the focus from "platform-centric" to "customer-experience-centric". Stop looking for the magic solution that solves everything and shift your focus to "composing" a digital ecommerce hive consisting of applications that collectively deliver the best possible customer experience for clients. Modern ecommerce software supports this trend allowing customer experience to be extended with new functions, channels, data sources and without throwing away what has been done before.
Why switch to composable ecommerce?
Composable commerce allows to build the best customer experience that 100% fits with your business model. Gone are the days when a traditional commerce solution has everything it takes to meet all the needs of the business and customer expectations. With consumer's fast-changing behavior in mind and the urge to adapt and integrate new functionality quickly, composable commerce provides an outstandingly agile solution to these needs. Integrating your ecommerce with any external software you already have or want to use, implementing any unique business scenario for any market segment, and the opportunity of fast expansion are among a few benefits that composable ecommerce platform offer.
4 reasons to adopt
composable
ecommerce
Use the benefits of autonomy, modularity, orchestration and discovery as 4 principles of composable business embedded in the Virto Commerce platform, as the one that has absorbed and implemented all the latest innovations in its architecture in recent years.
Microservices
Add stand-alone applications that serve a specific business function which can be individually designed and deployed by dedicated teams. The microservice architecture approach in ecommerce allows you to change the software fast without any risks for your business. Plus, integration with other apps through API is also straightforward.
API-based
The gateway used by applications to interact with each other. The APIs exchange data in a fast and structured way. A function that is available in the API can be used by external software in a controllable manner. Based on the API interface, each module provides the other with the data it contains and results in fast and transparent data discovery.
Cloud native
A solid cloud software solves scaling problems automatically, so your ecommerce will run fast and efficiently, even when the number of customers unexpectedly doubles or triples. Instead of running and maintaining hosting infrastructure for data centers, you get access to on-demand resources to run their applications. 
Headless
A headless solution comes without a turn-key user interface such as a standard shop front end. This allows an unlimited number of stores, portals and kinds of devices to be connected to the same back end. That leaves unlimited freedom to design a unique customer experience and easily extend your ecommerce while staying in a zero-risk zone.
Modularity
Each functional block of an existing IT system should be able to be replaced by the best and latest modules available on the market, so that both existing and new systems can be used.
Autonomy
The headless xAPI layer implements the principle of autonomous operation of ecommerce services and applications within the specified rules and predefined boundaries.
Discovery
Based on the API interface, each middleware module provides the other modules with all the data it contains, thus realizing the principle of fast and transparent data discovery.
Orchestration
Each module interacts in real time with other layer modules and provides data for front end applications and through the integration layer firewall to back end systems.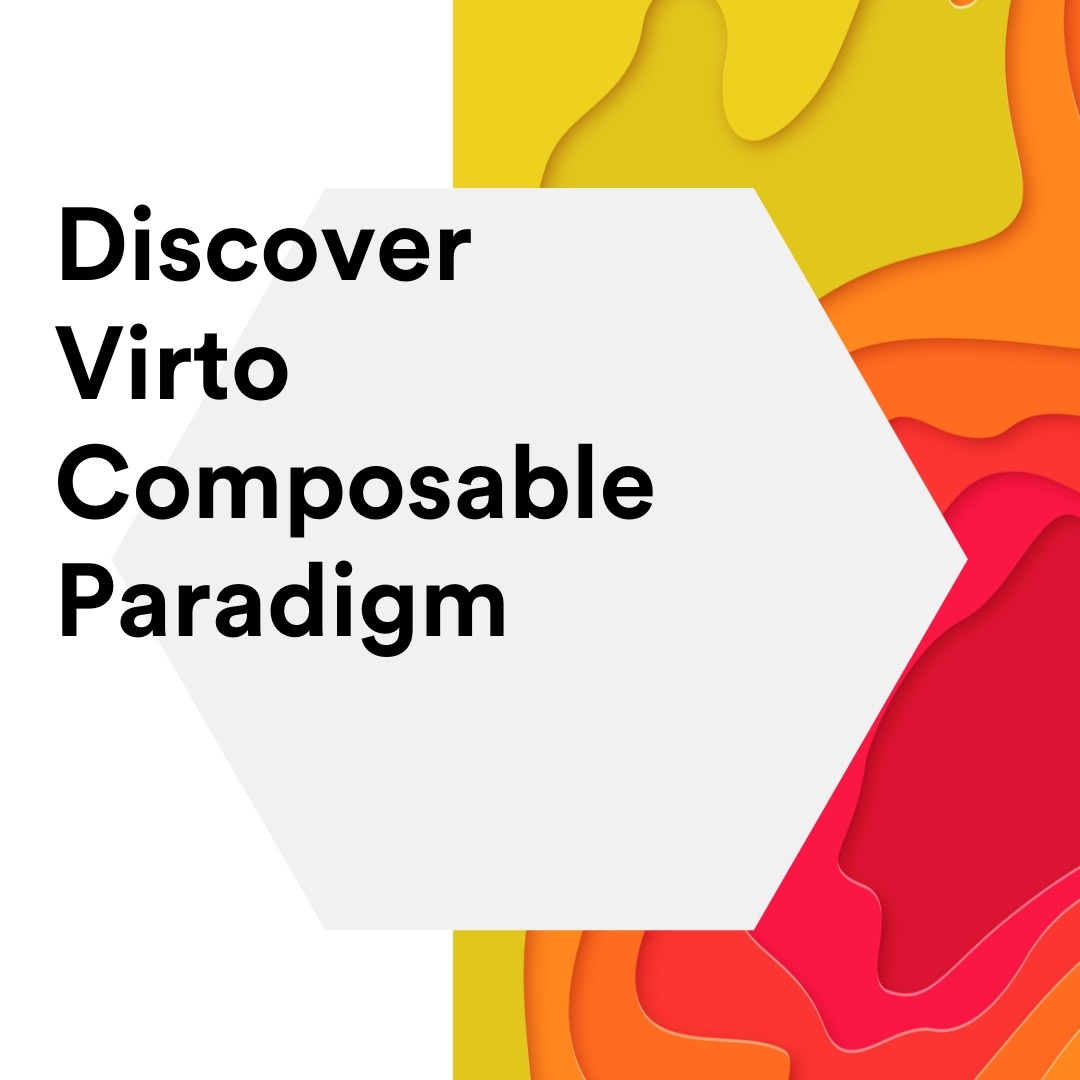 The essence of a composable ecommerce business  resides in its agile approach and ability to implement online commerce business processes in a modular architecture, choosing and applying the best components available on the market and seamlessly integrating them into an ecommerce platform. 
Microservices, headless, multi-cloud and multi-OS support, as well as rich features for multichannel and omnichannel sales, and rapid development of new innovative touchpoints, all to help businesses radically improve the customer experience and achieve stable revenue growth.
Virto Commerce promotes a visionary position in system architecture for maximum flexibility in the implementation of ecommerce, allowing customers to gain successful, untapped back end systems. The flexible modular architecture of the Virto Commerce platform makes it possible to replace subsystems that do not meet today's challenges with systems that are either included in our platform or supplied by third software vendors, the best in their niche.
Virto Commerce customers can take full advantage of the composable ecommerce approach to leverage the tremendous benefits of the platform for the resilience of their business, including: 
✓ Easy implementation of new touchpoints such as chatbots, instant messengers, smart watches, Internet of Things, Artificial Intelligence hints and more
✓ A distinct and unrivaled customer experience that will provide undeniable differentiation among competitors and the ultimate convenience of purchasing goods and services
✓ An advanced business logic that drives an enterprise and enables business experiences with complex requirements for testing commerce hypotheses and new market niches 
The Virto Commerce expert team is available to guide your company as it upgrades from an existing platform to a composable ecommerce approach to ensure resilience, agility and growth for your business.