All About eProcurement Software Solutions: Complete Guide
Jul 1, 2022 • 10 min read
Useful links:
In today's business world, it is more important than ever to have efficient and effective e-procurement software solutions. E-procurement tools can save your company time and money, and help you get the products and services quickly and efficiently. In this guide, we will discuss what e-procurement software is, how it can benefit your business, and the different types of systems available. We'll also provide tips on how to choose the right e-procurement system for your company's needs. Let's get started!

eProcurement Definition
E-procurement, also known as electronic procurement or supplier exchange, is the term used to describe the process of the B2B, B2C, or B2G purchase and sale of goods and services over the Internet and other networking systems, such as EDI (or electronic data interchange) and ERP (enterprise resource planning). And as such, e-procurement technology is generally provided as an additional service by large ERP providers or as an e-procurement software by focused vendors.
Traditional procurement involves physical paper-tracked operations. As the Internet evolved into an essential commerce channel, eprocurement systems went online with the use of web-based solutions. The first company to launch an e-procurement system was IBM in the year 2000 when it introduced its Replenishment Management System and Method, designed by a communications engineer Daniel Delfín and developed by a programmer Alberto Wario. Back then, the system was designed to solve IBM's complex procurement process, which it successfully did, contributing to the plant's production growth and prompting IBM to sell licenses to this software to other companies globally.
In Europe, e-procurement for the public sector was first introduced with Directives 17 and 18 in 2004 and subsequently revised in 2014, setting up a framework for transparent and equal opportunities for public procurement including the standardization of procurement processes and the use of electronic communications.
The modern eprocurement value chain consists of several key components, such as indent management, eInforming, eAuctioning, catalogue management, vendor management, purchase order integration, eInvoicing, ePayments, contract management, order status, and ship notice. While some components are optional, others tend to be more standard.

What Is E-procurement Software?
E-procurement software is an enterprise system that automates and integrates the spectrum of an organization's procurement cycle. A good e-procurement solution will increase the transparency of spending and approval processes.
For example, an online procurement as a part of an e-procurement system allows customers to browse online catalogs, add goods to the shopping cart and send an order request. However, online procurement automation goes far beyond the online shopping experience. Online procurement involves many procedures, functions and workflows, making e-procurement fast and cost-effective. Its implementation reduces manual errors and paper-based processes due to smart automation and the visibility of a purchasing mechanism. An e-procurement platform and tools remove most document operations from a procurement team who can now focus on high-value tasks, not paperwork.
An effective e-procurement platform and e-procurement tools streamline procurement procedures and deliver visible cost-saving results.
Of course, e-procurement technology differs in features and provided options. Some e-procurement tools are suitable for large corporations, while others are less complex and more fitting for small or medium-sized businesses.

Offline vs Online Procurement Processes
Procurement departments play an important role in almost every company, regardless of its size.

The procurement system is essentially a set of processes that consist of several steps and interactions with other departments of the company and its suppliers. Traditional procurement involves obtaining quotes and approvals and preparing and submitting purchase orders.

The procurement manager's responsibilities include strategic planning to reduce procurement costs by searching for cost-effective deals and suppliers. Good procurement technology provides many opportunities for cost savings and makes a significant difference to a company's budget.

An e-procurement system manages an e-commerce website's offers/bids and can be used interchangeably with procurement software. It is designed to optimize purchasing processes and increase transparency in spending and approval processes. E-procurement essentially transfers the entire procurement process to an online platform, eliminating several steps and thus, saving the budget.
What Are the Three Stages of the Procurement Process?
To put it simply, any procurement process typically involves the three stages: planning, sourcing, and contracting.
Planning: The first stage of the procurement process is planning. In this stage, businesses identify what goods or services they need to purchase and develop a procurement plan.
Sourcing: The second stage of the procurement process is sourcing. In this stage, businesses identify potential suppliers and request quotes.
Contracting: The third stage of the procurement process is contracting. In this stage, businesses negotiate contracts with suppliers and award purchase orders.

What Are the Main Functions of E-procurement?
E-procurement systems handle the entire procure-to-pay process by offering integrated applications for sourcing, auctioning, requisitioning, billing, spending analysis, contract and vendor management. And as such, an electronic procurement system should have at least the following functions:
The procure-to-pay application handles the entire procurement process from requisitioning to paying for materials and services. Users should be able to browse and find items in catalogues, compare prices, order, and pay for the desired items.
eSourcing system helps to compare and choose vendors by managing such documents as Request for Information, Request for Approval, and Request for Requisition.
Spend analytics validates, reports, and analyses spend data, which helps to organise spending and identify savings areas. In turn, strategic save management gives visibility into spending performance and achieving business objectives.
Contract management organises the legally binding agreements and makes them available for further negotiations and signature.
Supplier management consolidates the vendor database and manages supplier information. Such software provides analytics into supplier performance and other supplier-related processes.
What Are the Top Features of E-procurement?
Different eprocurement systems have different features. So if you're looking for a procurement solution for your company, see if it has all the necessary features that would support your business. Some of the essential features to look out for include:
Supplier management is the core function of any procurement system. Supplier lifecycle management functionality should include tools for identifying, onboarding, managing, and analysing suppliers. A simple supplier management module should at least include supplier information, purchase catalog, order history, and payment details. A more robust system would include tools that help efficiently onboard, qualify, and manage suppliers.
Budget insight and control
Budgeting is an important aspect of procurement management which has a direct impact on a company's bottom line. A good eprocurement solution should enable a business to create and enforce dynamic approval workflows that would help enhance the efficiency of the company's purchasing power, define authority in making purchasing decisions, and resolve purchasing bottlenecks across the value chain. Procurement software should have rule-based budget controls, compliance management, and automated spend monitoring.
A good eprocurement system should be able to seamlessly integrate with internal and third-party systems to ensure accuracy, consistency, and process efficiency. Integrations remove data silos, redundancy, duplication, and human errors. A flexible procurement management system scans data history, deduplicates, and updates the whole system without intervention or suspension of critically important business processes.
A good platform should be fully customisable to model the unique procurement needs of the business. An ideal solution would be cloud-based and API-driven, which means scalable and extensible by default.

How Does E-procurement Work? eProcurement Process
eProcurement eliminates the need manually carry out labour-intensive and procurement-related tasks by automating those tasks and connecting various entities and processes through a centralised platform. Supplier relationship management is the key component of eprocurement process. Depending on the nature of the business, components may vary but generally, these are:
E-sourcing (defining purchasing requirements and selection criteria, pre-qualifying prospective suppliers),
E-tendering (requesting quotations, proposals, and more information),
E-auctioning (evaluating suppliers, negotiating, and agreeing on terms and conditions),
E-ordering (creating requisition and purchase orders, receiving ordered items),
Analytics (evaluating supplier performance, spending, and budget control).
E-procurement Advantages and Disadvantages
As with any system, there are advantages and disadvantages.

Thankfully, with the carefully chosen eprocurement system, a business can expect more benefits than drawbacks. A flexible software will allow companies to eliminate data silos by connecting and integrating other business systems, boost productivity by reducing manual labour and human errors, get more insights into budgeting and expenditure, and augment collaboration between different teams and partners.

Disadvantages are mainly connected with the implementation of e-procurement systems: they require substantial investment, learning and readjustment from personnel. To prevent any implementation issues, companies need to carefully research the market for prospective e-purchasing solutions, choose the most adequate software given the budget constraints and business objectives, and thoroughly plan the implementation and integration processes.
How Is E-procurement Implemented?
There are a few stages involved in choosing, adopting, and implementing eprocurement applications:
Initiation stage:



To start off, a company needs to devise a business case with details regarding the company strategy, the use of a system, available resources, and time constraints. Usually at this stage, after assessing current procurement processes and gaps in those processes, the management of the company drafts up a document that delineates the scope, goals, dependencies, and assumptions, and contains a plan, risk assessment, and stakeholder overviews. After the document gets checked against the budget constraints and approved by relevant parties, the project moves to the next stage.
Acquisition stage





If all objectives and boundaries are set and known, it's time to develop a new or choose an existing methodology for selecting an adequate procurement solution. A tender document should describe the procurement process, specify the required functionality and objectives, and provide the tender terms and conditions. An information session can be organised for suppliers to answer their questions. After reviewing tender submissions, the company chooses the best providers and the most cost-effective solutions. After a demonstration session with the chosen providers, the best of them is chosen for the realisation stage.





Realisation stage.

The realisation stage includes three sub-stages:





Design: Suppliers prepare a detailed design of the process, system, IT management, and the transition period before and after software implementation.
Software configuration: Suppliers set up the solution based on the design parameters.
Testing of the delivered eprocurement tool: This includes unit testing, system integration testing, and acceptance testing.
Implementation stage




One of the most important parts of the implementation stage is to get everyone on board with the adopted system, which means that everyone in the company (especially those that are directly involved in the procurement processes) should be fully informed and adequately trained to use the new system. After information and training sessions, it's time to convert the old data into a new system and proceed according to the designed plan.
Maintenance stage




The final stage is evaluation and maintenance. It's important to consistently and continuously evaluate the system, and maintain and update it as long as it serves the organisation.
What Tools Are Used in E-procurement?
There are multiple tools that can be used in eprocurement. Some of the most common applications include web based EDI, XML-based data exchange, email, as well as other tools for esourcing, eauctioning, eordering, and ecataloguing.
How to Choose the Right eProcurement Software for Your Business
E-procurement applications can save your business time and money - but only if you choose the right system for your company's needs. There are a few things you should keep in mind when selecting eprocurement software, including:
The size of your company: If you have a large enterprise, you will need an e-procurement system that can handle a high volume of transactions. On the other hand, if you have a small business, you may not need all the bells and whistles of a larger system.
The type of products or services you purchase: If you frequently purchase large ticket items, you'll need an e-procurement system that can handle RFQs and RFPs. If you primarily purchase small ticket items, a simpler system may be a better option.
Your budget: E-procurement software ranges in price from free to several thousand dollars per month. Be sure to choose a system that fits within your company's budget.
The features you need: There are a variety of e-procurement software solutions on the market, each with its own unique set of features. Make a list of the must-have features for your company, and then select a system that offers those features.
By keeping these factors in mind, you can be sure to choose the right e-procurement software for your business. Ready to get started? Check out our top picks for e-procurement software solutions.
E-procurement Market: Vendors Overview
The procurement software market is projected to garner more than $14B at a CAGR of 10% by 2030, according to Market Research Future, an analytics firm. And as such, cloud based e-procurement systems are a force to be reckoned with. Since all businesses across sectors rely on procurement, there will be more eprocurement systems and tools that aim to help companies make the process more streamlined and efficient. Some key and dominant players in the market include Coupa Software Incorporated, Epicor Software Corporation, JDA Software Inc., SAP SE, Oracle Corporation, and IBM Corporation, among others.
Best eProcurement Software Companies, Platforms, Tools and Services
Some companies outsource their e-procurement needs to third-party procurement service providers (PSPs) that design and manage internet-based procurement programs on their behalf for a fee. It takes time and resources for a company to maintain domain expertise in all facets of spending. Assistance from a PSP increases the likelihood that a company's purchasing decisions remain strategic
Flaxion (previouosly eRequester) cloud based procurement software for B2B/B2C
Procurement has never been easier with Flaxion. The system is essential for controlling finances, corporate spending and approval workflow. The Flaxion cloud based eprocurement software has become popular among users for its ease of use, great value for the money, and high customer satisfaction. This e-procurement software allows you to integrate accounting systems along with other customized solutions for your business: online requisitions, online approvals of purchase, control of the budget, integrated web and mobile interfaces, management of expenses, approval of invoices etc. Overall, this solution will help automate the procurement process, reduce data entry errors, eliminate unnecessary paperwork in the databases, reduce unclassified spending, and encourage the use of preferred vendors.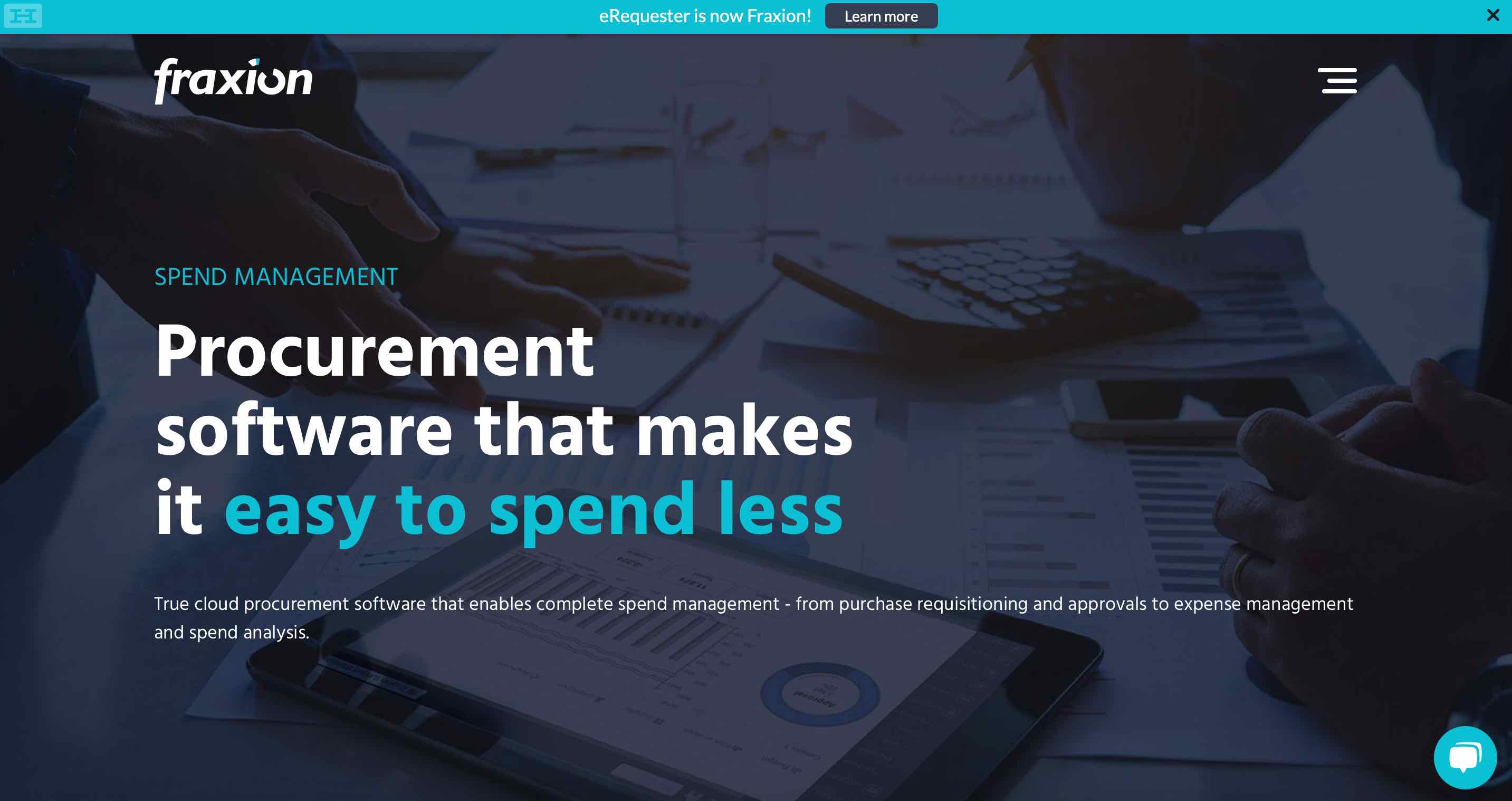 PairSoft web based eprocurement system for B2B/B2C
PairSoft is a feature-packed web-based procurement software that brings automation to your entire procure to pay process. PairSoft's P2P automation solutions ensure seamless integration of budget compliance, RFQ, invoice match, vendor contract enforcement, vendor portal, and so on. The platform can be run as a standalone solution or integrated with Microsoft Dynamics, Sage Intacct, Blackbaud Financial Edge, Netsuite, and Acumatica. The PairSoft web-based procurement system allows for 360° spend insight across categories, real-time vendor and supplier communication, streamlined approval routing and compliance assurance, as well as advanced data-retrieval and tracking.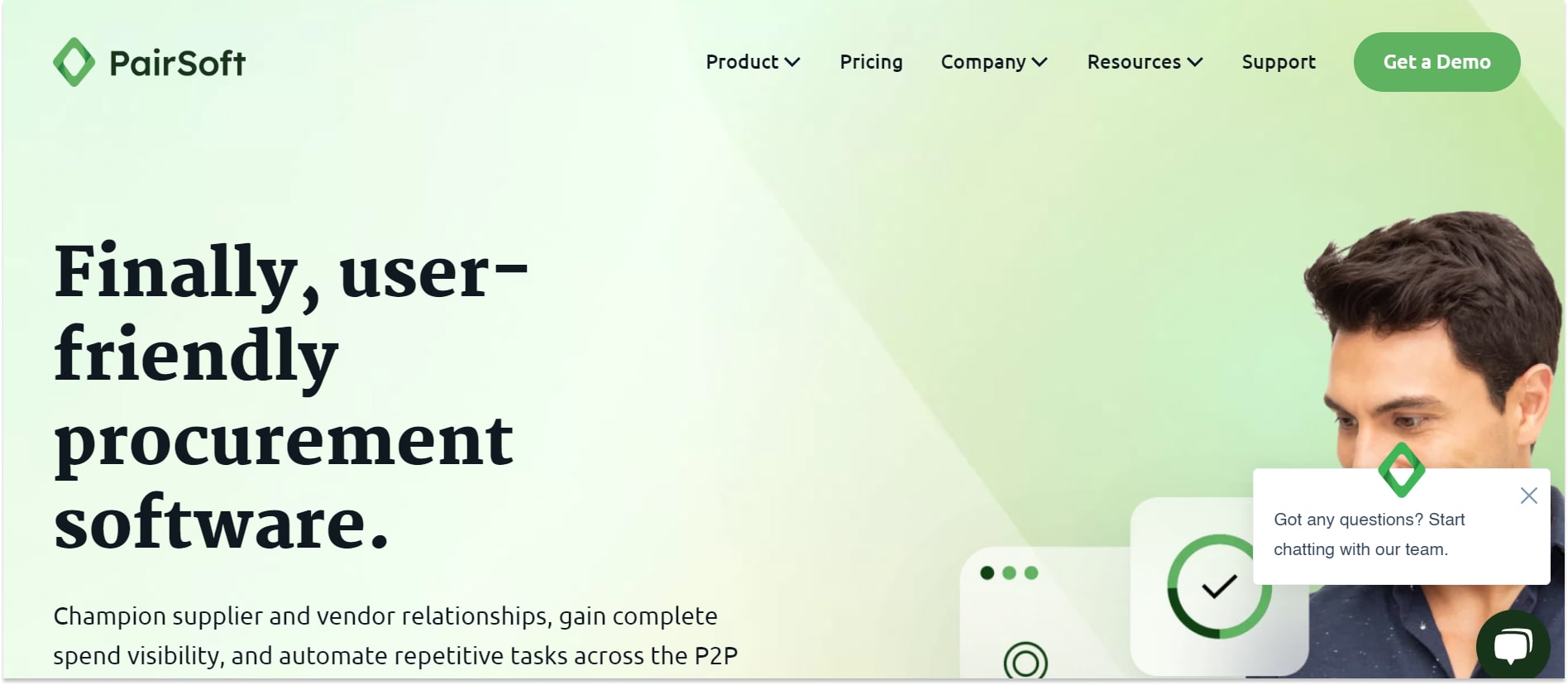 Procurify B2C e-procurement software for small business
Procurify is an all-in-one spend management platform that has become popular among users for its impeccable features and seamless integration with multiple systems (including QuickBooks Online and NetSuite). With Procurify, expense management has become even easier thanks to its perfected order-to-payment cycle process. Each integrated feature in Procurify is created to make the request and purchase management process seamless and smooth. The platform allows for easy verification and centralisation of available information by giving users the necessary set of user controls. Agility is at the heart of the Procurify purchasing system: workflows are immediate, customizable, and fully controllable. If you are a mid-sized company, Procurify might be your go-to spending management solution.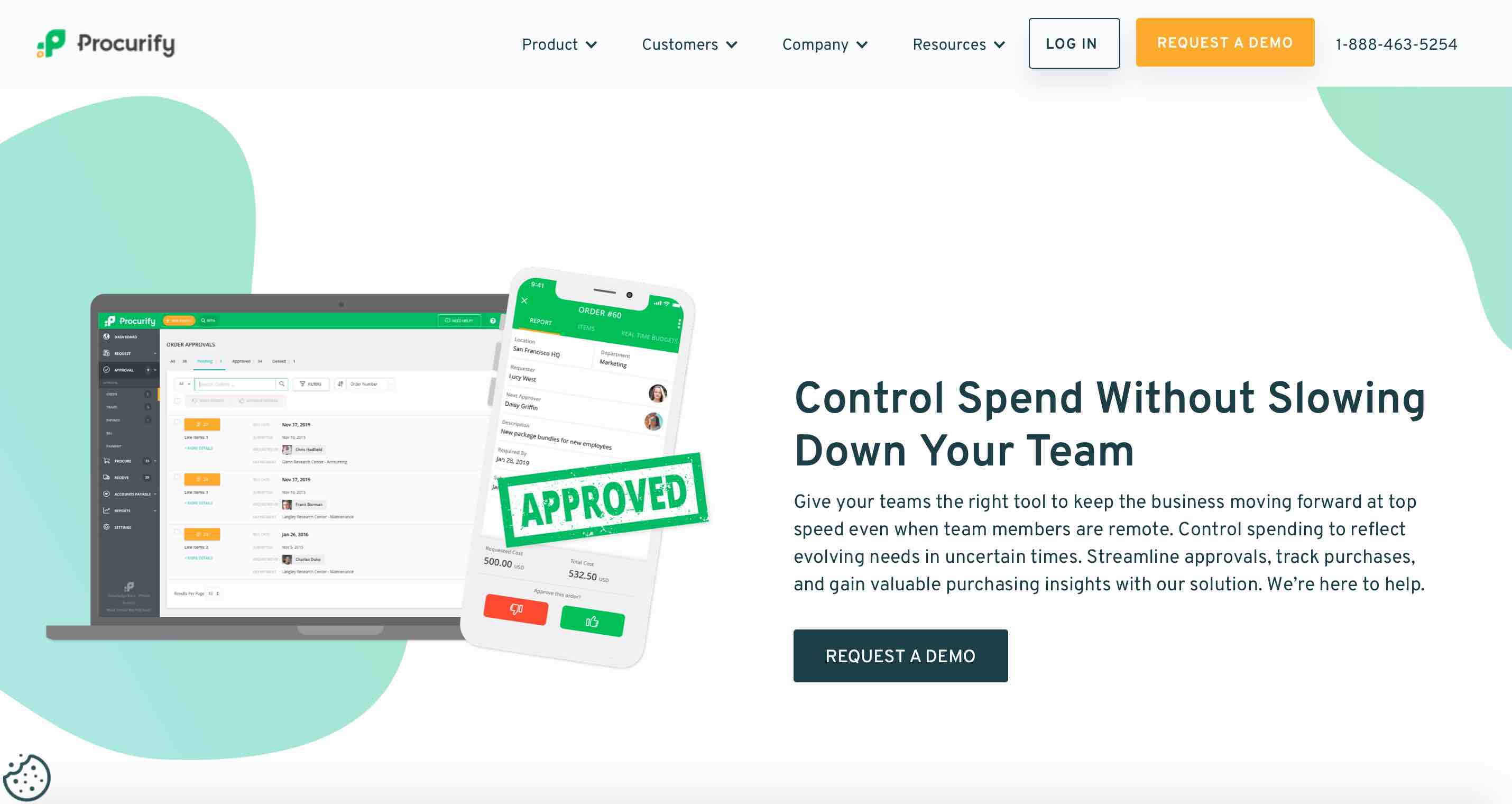 Synertrade Accelerate eprocurement software applications and tools for B2B/B2C
SynerTrade Accelerate is a world leader in flexible digital procurement solutions that help companies to digitise their procurement processes. The SynerTrade Accelerate SaaS platform covers the entire procurement process through a variety of modules, such as Spend Analytics, Product Management, eSourcing, contract lifecycle management, catalog management, purchase requisition, and so on. There's a large support community and the company's customer service is available in 10 languages 24/7. SynerTrade operates in more than 20 offices worldwide and helps clients optimize more than 600 billion dollars of annual spending. The company is a pioneer in procurement solutions and is well-suited for mid to large-sized companies.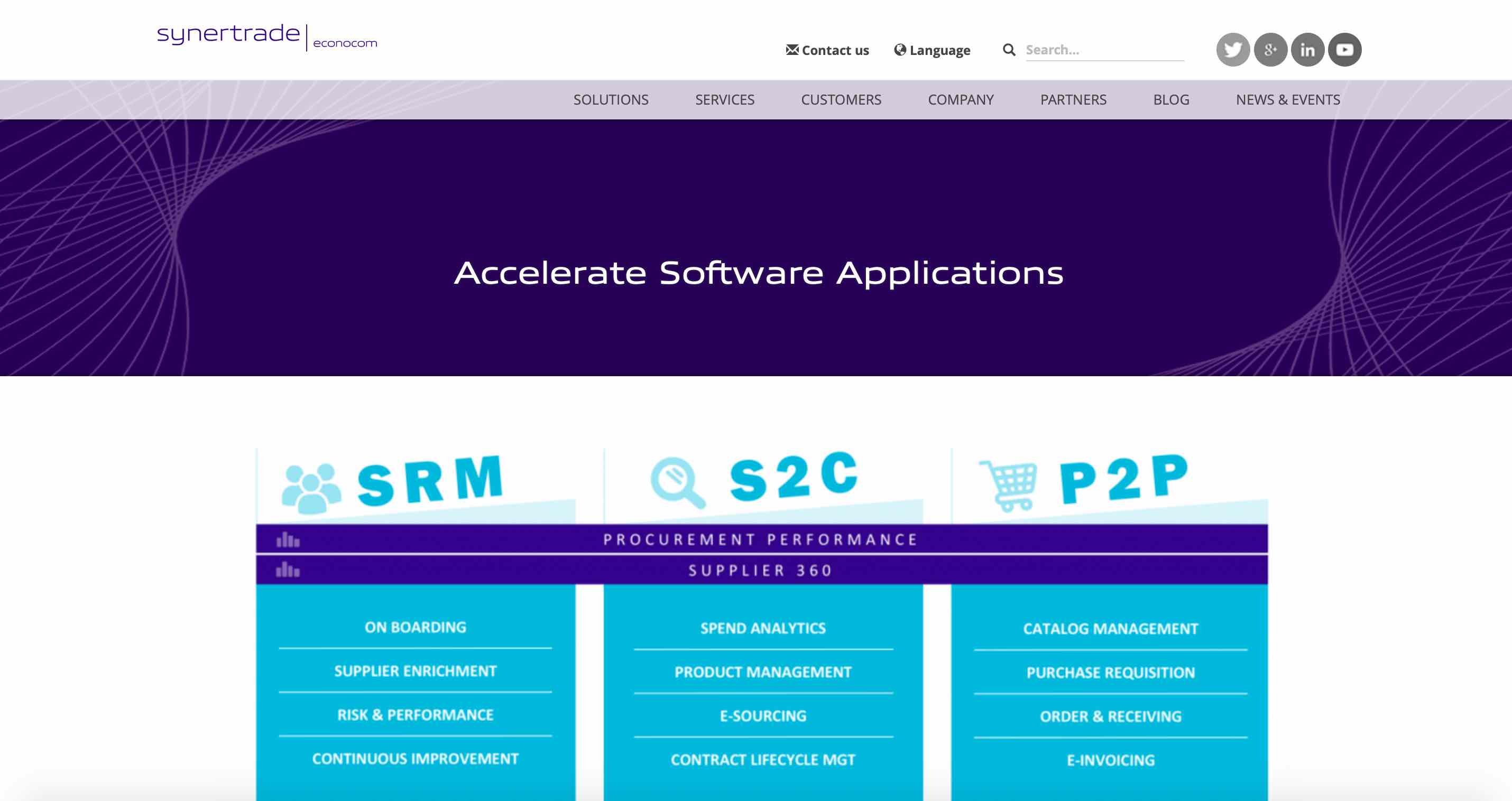 Tradogram cloud based eprocurement software for B2B/B2C
Tradogram is a web-based eprocurement software with a wide range of features to enable a successful spend control strategy in any company. Tradogram's features can help companies with purchasing administration and operations: they enhance team collaboration, help to oversee purchasing activities, and automatically generate reports from stored transaction histories. Tradogram is completely configurable, and every tool is optional and integrated, including sourcing events, a contract repository, requisition forms, automated 3-way match invoice processing, and much more. The solution comes with the latest security features and cutting-edge agility at a reasonable price and with intuitive handling. If you want full control of all the processes in your company from the product and supplier side, Tradogram might be the right e-procurement platform for you.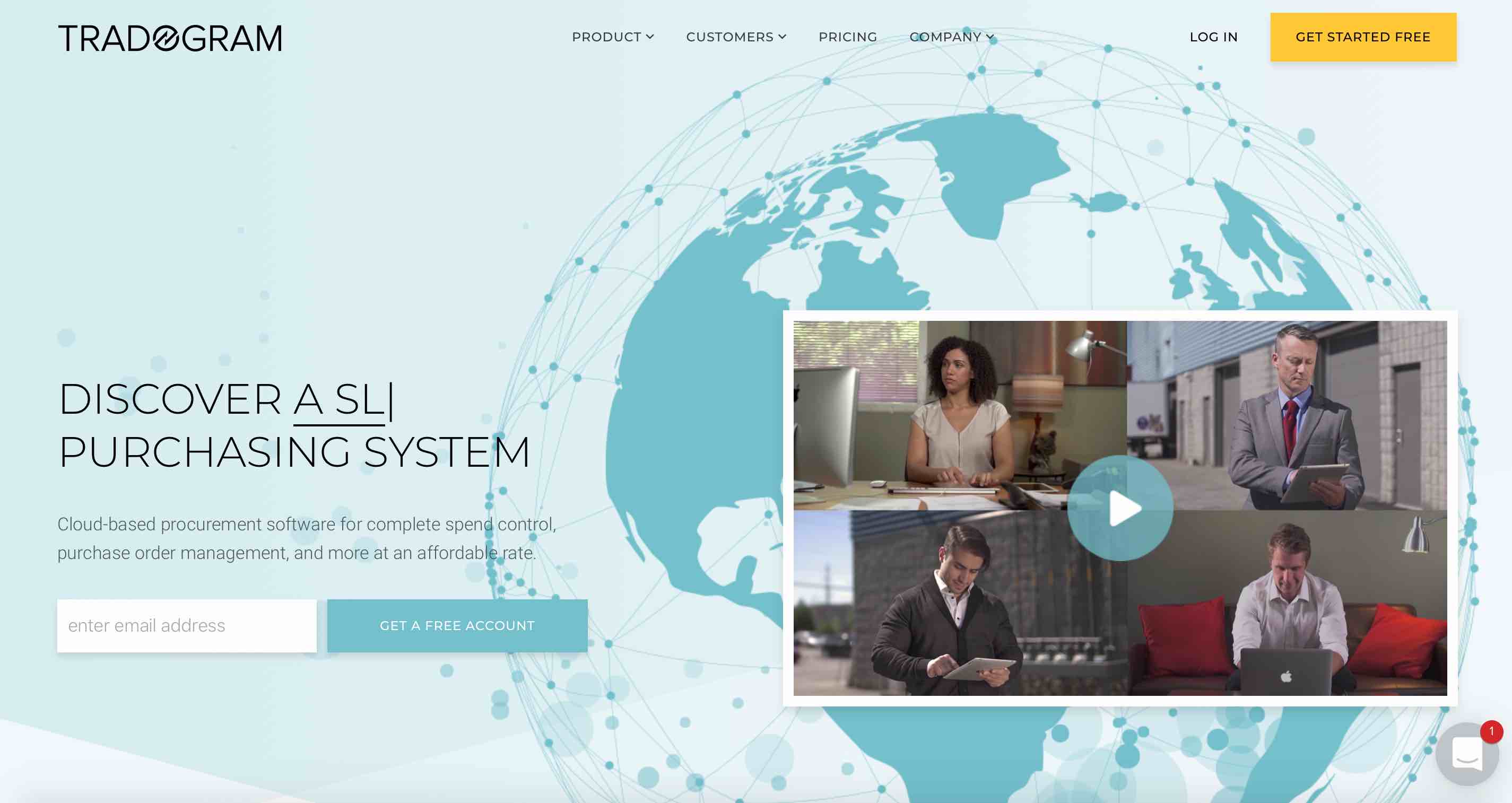 Precoro eprocurement software for small business for B2C
Precoro is a highly customizable procurement platform for small and growing mid-sized businesses. Precoro makes it very easy to accelerate the entire expense management process and facilitate purchasing goods for any business. With a unique data collection system, the Precoro platform gives improved visibility over the company's spending processes with all the right tools necessary for successful budget management of the company's finances. Among Precoro key features are purchase requests, purchase orders, approval workflows, budget management, reporting, inventory, supplier and user management, as well as integrations.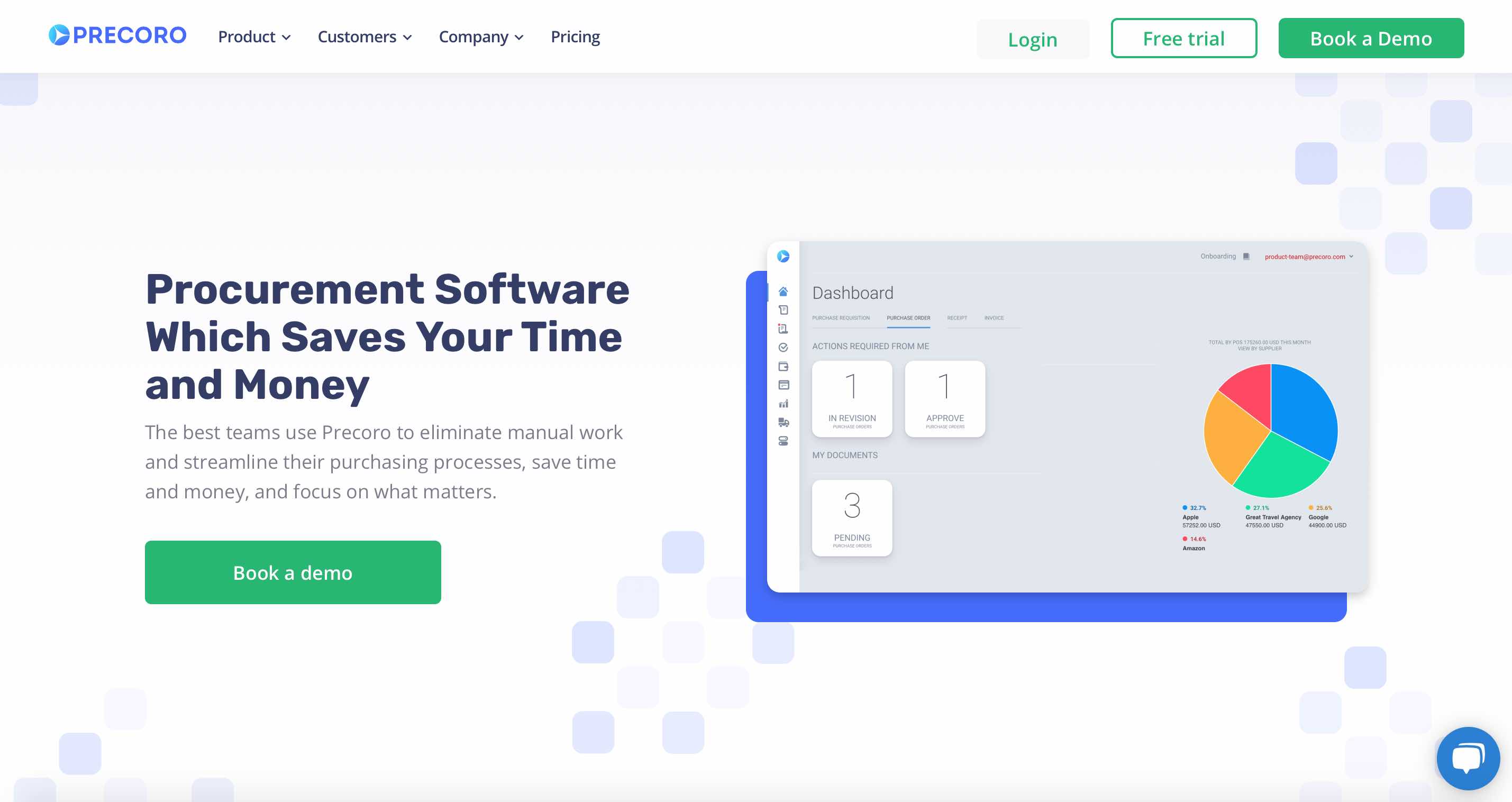 ProcurEngine a reverse/forward auction platform and e-procurement application for B2B/B2G
ProcureEngine is a simple, effective, and powerful solution and a reverse/forward auction platform that includes a few robust procurement software functions. Among ProcurEngine main features are RFx and eAuction, supplier lifecycle management, eNFA, supplier Portal, contract management, and spend analytics. With this tool, you can maximize the transparency of all phases of the purchasing process, minimize unfair practices, reduce the time it takes to negotiate with suppliers/manufacturers. The software ensures all information is centralized and accessible at all times, giving the management the ability to create precise audits with less effort. ProcureEngine is flexible and can be accessed anywhere in the world, deployed on-premise or in the cloud. It is fully compliant with any standards and adheres to all of the guidelines in the industry.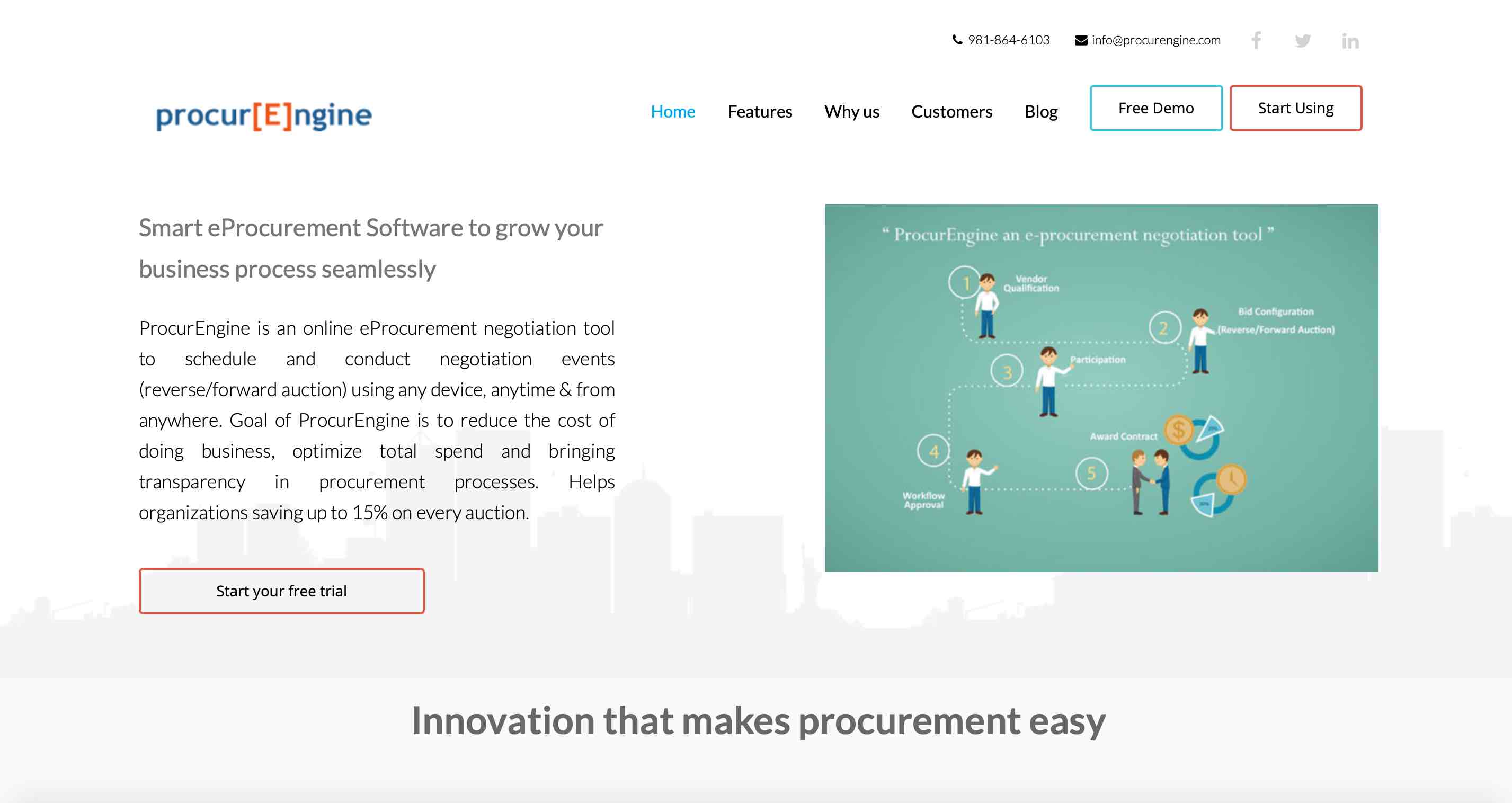 SAP Ariba B2B eprocurement platform
SAP Ariba platform is a cloud-based procurement system from SAP which, unlike older releases of SAP SRM, is fully compliant with the EU GDPR. SAP Ariba is a single system with a cloud approach that covers everything: ordering, approval, delivery, invoicing, contracts with suppliers, central RFQs, and spend analyses. As the majority of SAP customers are still using the on-premise SAP SRM application, SAP encourages them to transfer their operations to the cloud with Transform SRM, a program from SAP Digital Business Services designed to provide customers with targeted support for their transition to the SAP Ariba. Among the key advantages of the cloud approach is that with SAP Ariba, all innovations and updates are instantly available. Besides, the solution is quick and easy to implement as SAP's global network of connected suppliers allows companies to seamlessly switch solutions and seek provider help when required.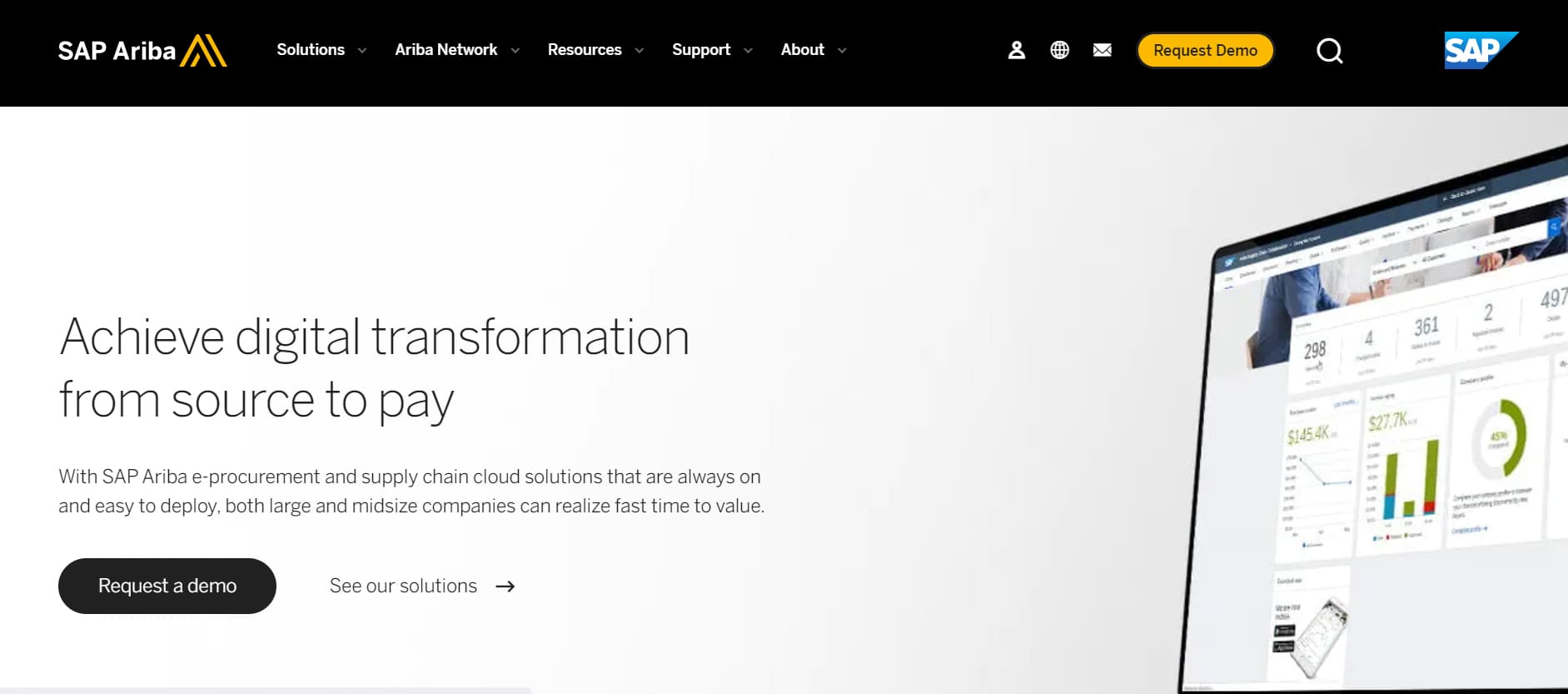 Coupa spend management platform and eprocurement software for B2B/B2C/B2G
Coupa is one cloud platform to manage all transactions across procurement, payments, and supply chain. Coupa's Business Spend Management (BSM) platform provides powerful capabilities for everyone in the company and your suppliers to conduct all of their business spend activities in one place. Among Coupa's features are powerful and easy eprocurement, AP automation and compliance, travel and expense management, payments, supply chain management, contract management, and spend analysis. With hundreds of billions of dollars in spend under management, Coupa's procurement system offers plenty of savings opportunities and actionable insights to drive measurable results across the board.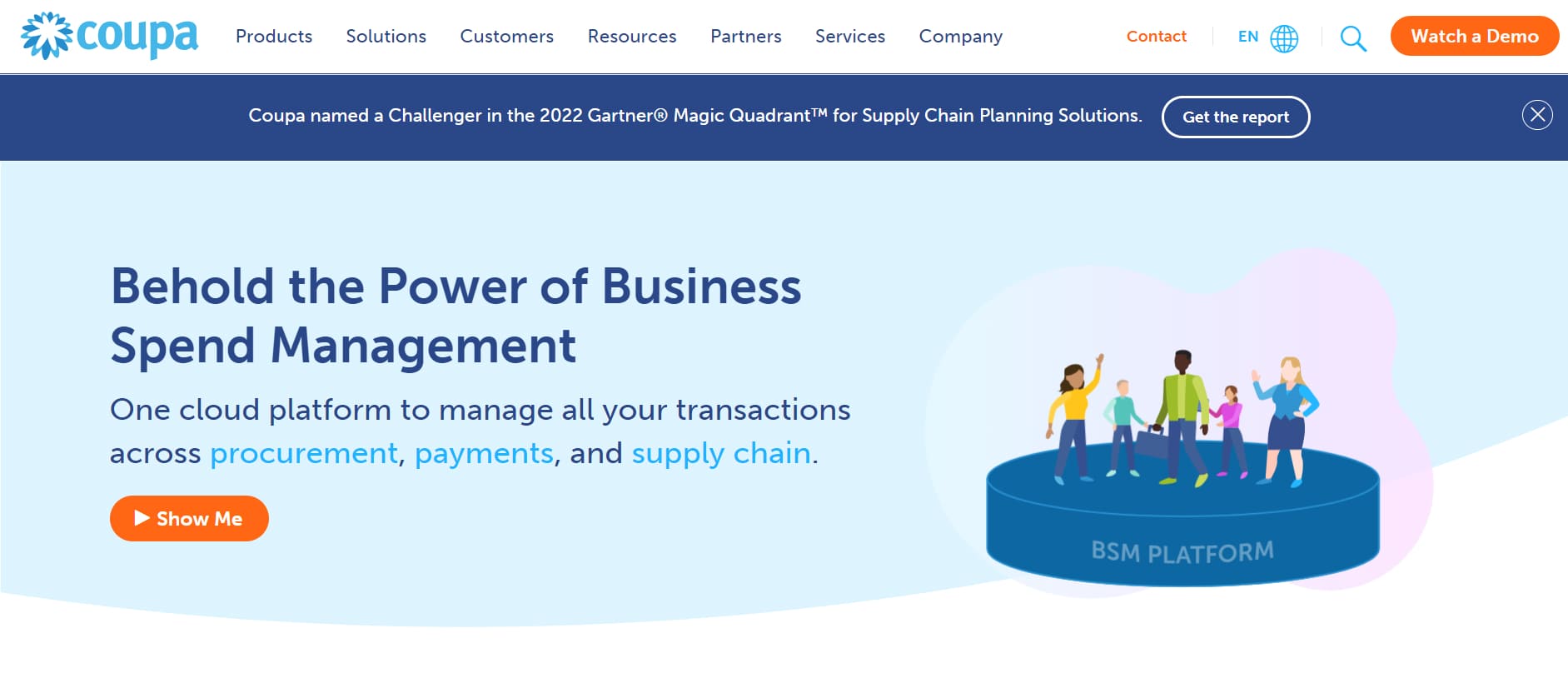 Jaggaer B2B e-procurement software for B2B/B2C
Jaggaer Enterprise Commerce Network powered by Procurement Platform promises to fundamentally transform the way companies do business. Jaggaer has recently received the Customers' Choice distinction for P2P solutions from Gartner, one of only two companies to repeat from 2021. Jaggaer One procure-to-pay suite is an inclusive spending management suite and a vital resource for online shopping and automatic inquiry that enhances companies' billing techniques by providing the best payment and billing methods. Jaggaer One software's new analytics option offers a rapid approach to data and allows companies to transmit the data skillfully and safely anywhere required. Perhaps, Jaggaer is best suited for larger multi-national companies as it's designed to streamline operations across departments and countries.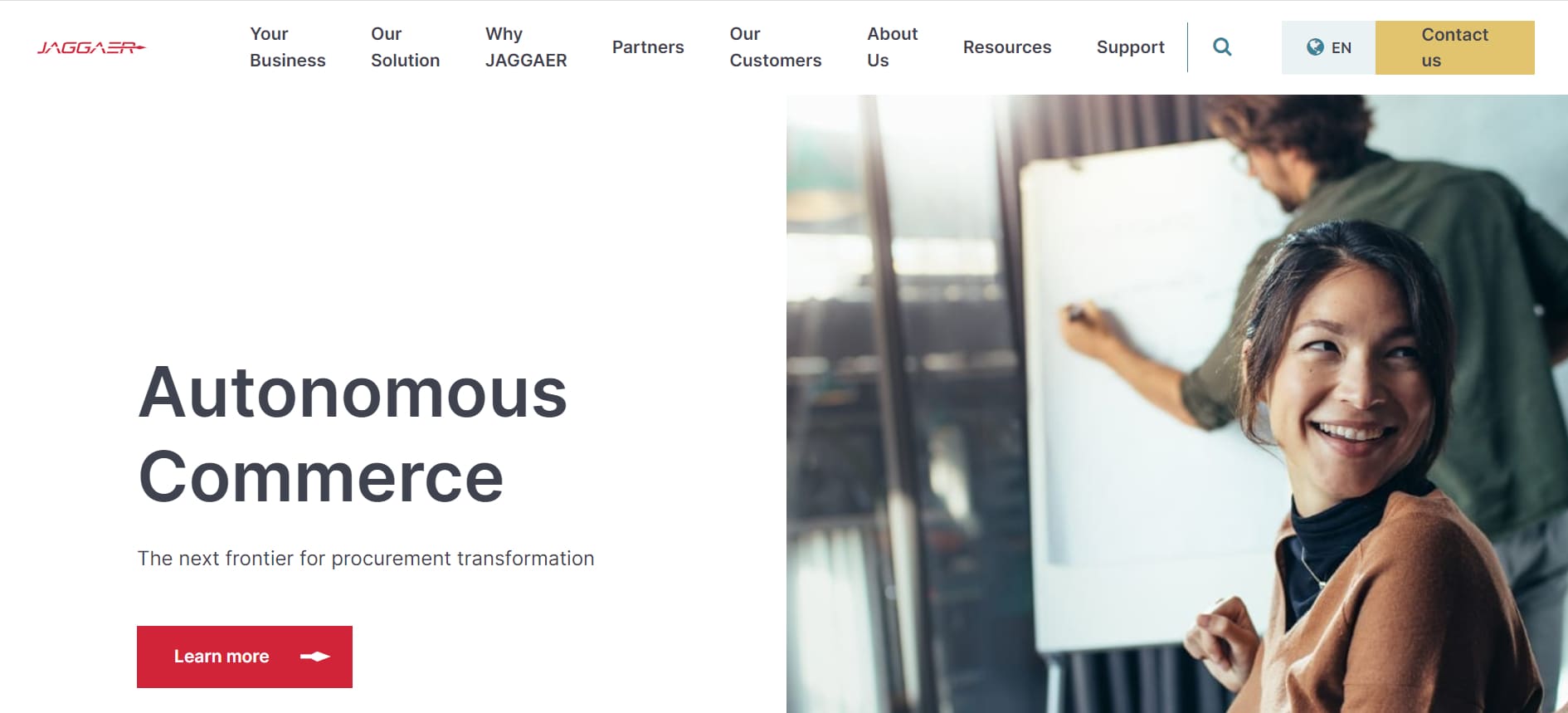 Odoo eprocurement software open source for B2C
Odoo is a suite of open source business apps that cover all your company needs: CRM, ecommerce, accounting, inventory, POS, procurement, project management, etc. With Odoo, you can automate your purchasing workflows, automatically send RFQs to suppliers, establish procurement rules, make smarter purchasing decisions, launch purchase tenders, analyse, forecast, and efficiently plan your orders. Since it is an open source product you'll require a specialized team to plan, monitor, develop, and customise the software and installation. Once you decide to try a paid version, pay attention to a variety of fees and opt for a plan that will minimize your expenses.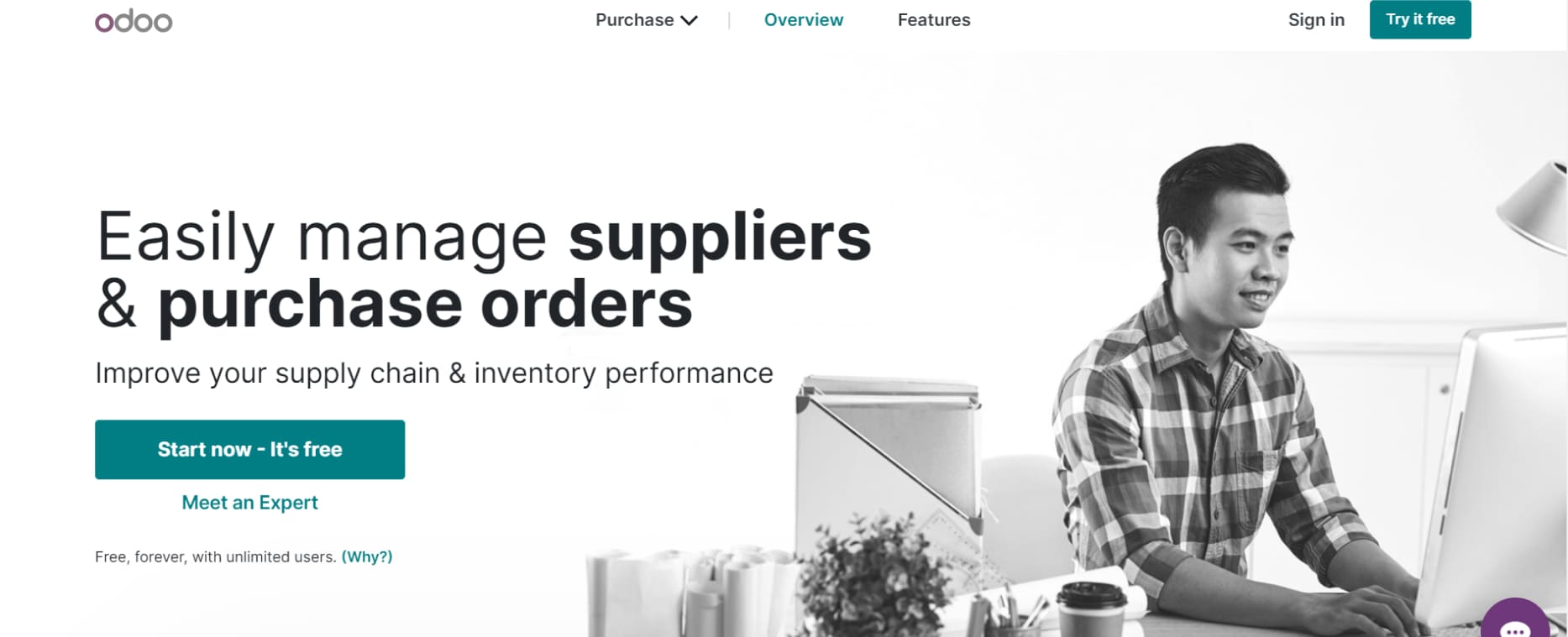 Mobile Procurement Solutions
Mobile procurement refers to any software that allows companies to streamline their procurement operations from any mobile device. A few examples of such solutions include GEP software, which was designed to function optimally across multiple devices, and mShop, a highly configurable, mobile SAP procurement app, which streamlines requisitioning and purchasing processes through self-service capabilities on mobile devices.
Virto Commerce B2B eCommerce Platfrom: Apply For eProcurement Software Demo
The Virto Commerce e-procurement application can become your key to optimizing supply chain mechanisms and automating business processes.
The Virto platform is a cost-effective eprocurement software system that streamlines purchasing processes, provides better control over spending, and saves time and resources for your team.
Virto Commerce allows your business to
Track expenses, costs, and warranty information.
Encourage everyone to spend smarter and save on everyday operating costs by tracking inventory items, service and expiration deadlines, stock and more.
Stick to the budget, eliminate unwanted spending, and improve savings by enabling buyers and purchasing management to consistently enforce pre-purchase approvals.
Gain insight into purchase order (PO) and non-PO spending across the organization.
Create smooth and smart workflows while providing an enjoyable shopping experience.
Automate purchasing processes and enable strategic purchasing.
Negotiate better contracts with less time and resources.
Optimise supply chain mechanisms and build strategic partnerships with your suppliers.
Increase user adoption across an organisation.
Make informed financial decisions.
Increase transparency and visibility across the board.
Allows both suppliers and managers to self-service.
Collaborate effectively.
Grow your business.
If you would like to know more about the Virto Commerce platform and how it can help to optimise purchasing processes within your organisation, schedule an eprocurement demo now and see for yourself!

Conclusion on Choosing the Right Eprocurement Software
E-procurement is a growing trend in business, as more and more companies move to conducting all of their transactions electronically. In this article, we've tried to cover all aspects of electronic procurement and give you some examples of the best eprocurement software on the market. Do you use e-procurement in your business? If so, what software or marketplace do you use? Let us know, we'd be glad to hear from you!
What is e-procurement explain with example?
E-procurement is the use of electronic means to purchase goods or services. This can include using a company's internal purchasing system to order goods or services, or using an online marketplace such as Amazon Business to make purchases. E-procurement can also refer to the use of electronic means to request quotes (RFQs) or request for proposals (RFPs).

For example, a company may use an eprocurement system to order office supplies from a supplier. The company would create a purchase order in the e-procurement system, and the supplier would then fill the order and invoice the company. The company would then pay the supplier electronically.
What are the two types of e-procurement?
There are two types of e-procurement: direct and indirect. Direct e-procurement is when a company purchases goods or services directly from a supplier using an electronic system. Indirect e-procurement is when a company purchases goods or services from another company that specializes in procuring goods and services (such as an e-procurement marketplace).

For example, a company may use an e-procurement system to order office supplies directly from a supplier. Alternatively, the company may purchase office supplies indirectly from an e-procurement marketplace that sources goods and services from multiple suppliers.
What is the difference between ecommerce and e-procurement?
eCommerce refers to the buying and selling of goods or services over the internet. eProcurement is a type of e-commerce that refers specifically to the purchasing of goods or services using electronic means.
Which software is used for procurement?
There are a number of e-purchasing solutions available on the market. Some of the leading providers include Coupa, SAP Ariba, and Procurify. Be sure to do your research to find the system that best meets the needs of your business.
What is B2B e-procurement?
B2B e-procurement (also known as business-to-business e-procurement) is the electronic purchasing of goods or services between two businesses.
What is a procurement portal?
A procurement portal is an online marketplace that helps businesses to find suppliers and request quotes for goods or services. Procurement portals can be used for both direct and indirect e-procurement. For example, a company may use a procurement portal to find suppliers for office supplies, or to request quotes from multiple suppliers for office furniture.
What are the eprocurement software examples?
Some of the leading eprocurement software solutions include Coupa, SAP Ariba, and Procurify.
What is a SaaS procurement platform?
Procurement software as a service, aka SaaS procurement solution, is a cloud based procurement technology that's owned, delivered and managed remotely by one or several providers. Rather than installed on individual computers, SaaS technology is deployed online and works with a web browser. SaaS procurement solutions have all the benefits of traditional software without hosting costs and installations. While the cloud is managed by the provider, the data in the cloud still belongs to the customer.