B2B eCommerce Platform for Manufacturers
Today, customers in the
B2C
and
B2B
segments have much more common than a few decades ago. The rapid development of technology is blurring the boundaries between B2C and B2B purchases today. There are some obvious reasons for this trend: the ease of data collection, changes in customer preferences, quality/price ration improvement. As a result, companies strive to make each step of the purchasing journey easier and more convenient, as business segment buyers expect to feel a similar consumer experience in the B2B transaction process.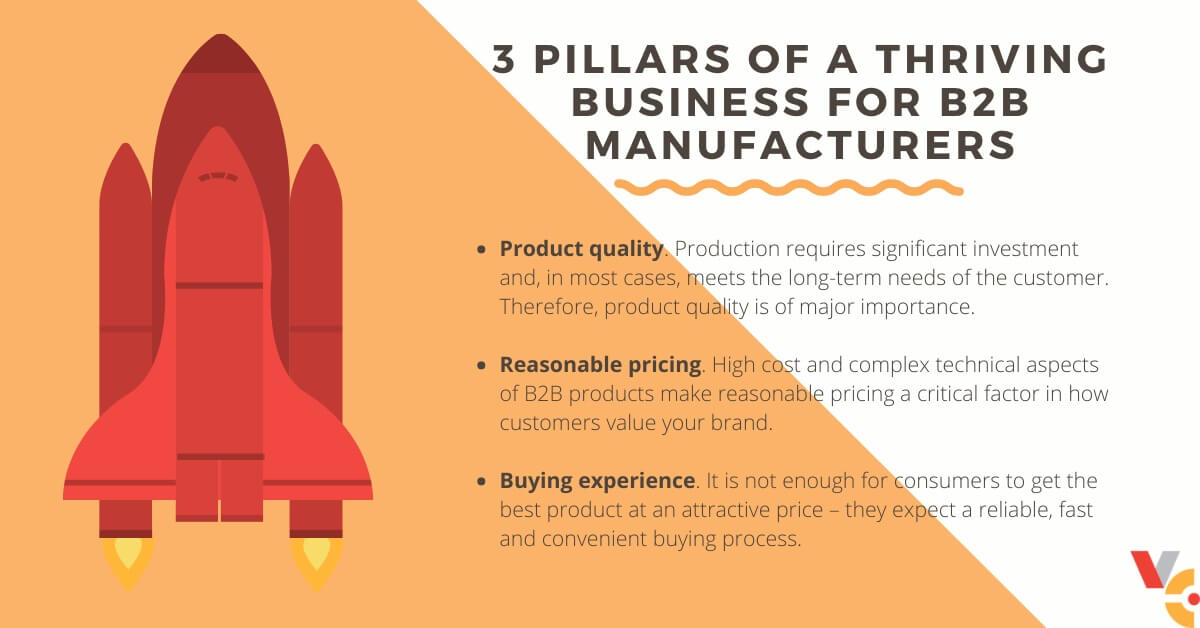 B2B manufacturers expect sales growth and post-sales service improvement when they go online. But in reality, they face some implementation challenges, such as:
Complex production technologies

Global competition

Quick change of preferences

Low availability/quality of information

High requirements for a level of service

Long sales cycle
Why manufacturers should choose ecommerce
Ecommerce platforms provide a convenient and easy to understand purchasing process from start to finish. Nowadays, digital commerce platforms have several functionality levels that manufacturers can customize to the needs, business objectives, and requirements of their customers. Let's have a look at how an
ecommerce platform
makes your customers' user experience better and easier in this step-by-step example.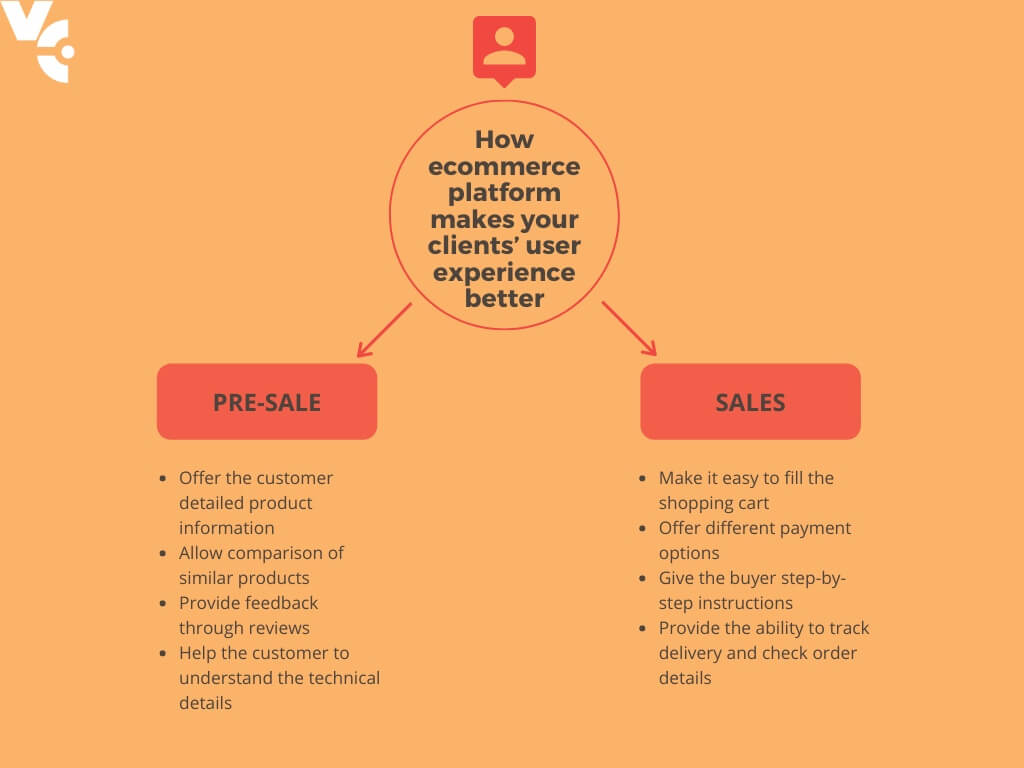 In most cases, IT is not one of the core activities of manufacturing companies. Moreover, having your own IT team set up an
ecommerce portal
, integrate the platform with multiple systems, educate the team and attract customers, can be expensive and time-consuming. To simplify all this, there are ready-made solutions for manufacturers. Besides, in times of changing business models – new trends such as
B2B2C
or
D2C
– a flexible and collaborative ecommerce platform can help manufacturers establish a direct online connection with customers.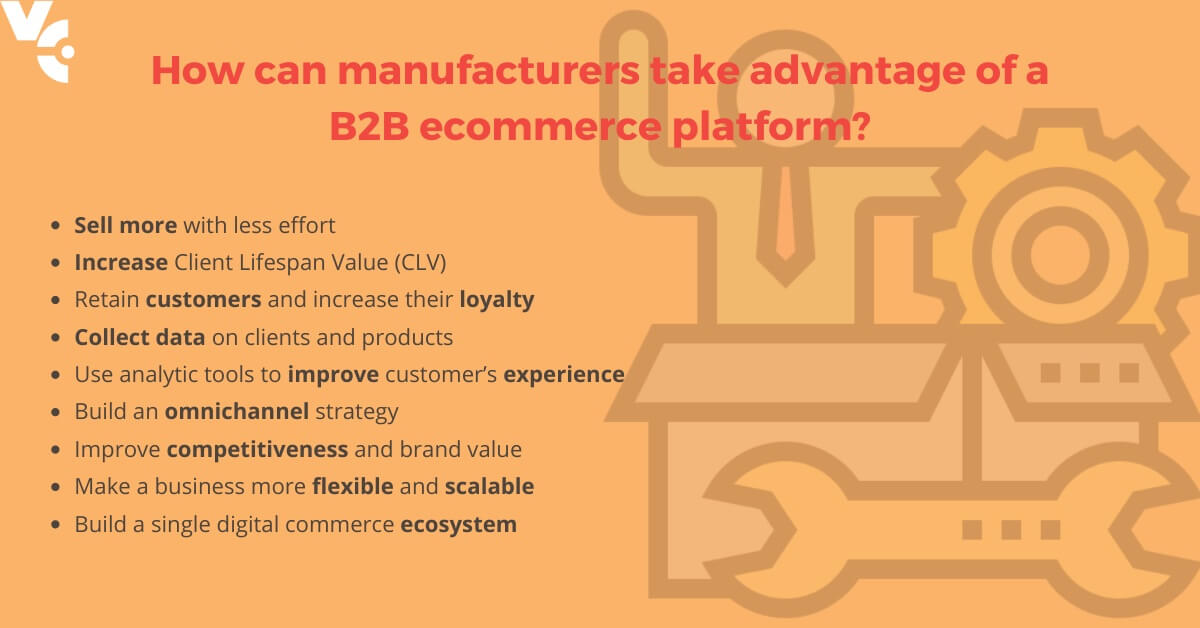 What specific solutions does Virto Commerce platform offer manufacturers?
Scalability

An efficient B2B ecommerce solution will allow your production to easily grow and scale, to meet market demand and customers' needs. This opens up new sales channels and reaches new market segments.
Efficiency

Integrating a B2B ecommerce platform with your ERP systems enables you to automate tasks, processes and operations (more efficiently). Automation reduces the risk of errors, improves logistics processes and tends to increase the flow of orders.
Increase the number of customers

A B2B ecommerce solution integrates a company's product list into a catalog that can range from tens to thousands of units, making it a powerful way to reach new customers. A digital catalog combined with an effective SEO strategy can be the best-selling tool you can have.
Enhanced brand awareness

Related to the SEO strategy mentioned above, having hundreds of pages that can be indexed by search engines, make you visible to the audience and prospective customers. It is fundamental to work on SEO and the "look and feel" of your brand using platform tools.
Sales increase

A B2B ecommerce system allows you to incorporate an analysis of top-selling products by region, volume, segment, or to configure a list of relevant suggestions. This way, you can set up automated cross-selling that increases the average ticket.
Improved analytics

With a B2B ecommerce platform you can launch a comprehensive analysis campaign to measure and evaluate the effectiveness of marketing campaigns, sales, inventory turnover and customer loyalty. The analysis tools can be internal and external. Internal are those built into the company's platform and systems, and external are those integrated as third-party services, like Google Analytics.
Personalized customer service

Ecommerce websites can provide access to self-service portals with a private account that stores order history and tracks delivery. Through integration with ERP systems, a robust ecommerce site can show specific customer products, services and pricing based on the client's login details.
More value for the customer

Without a doubt, a B2B ecommerce platform can provide more value to your business, but also to the customer. Depending on the needs of your customers, you can offer various online tools: invoice download, credit application or extension, customizable pricelists for the end consumer, returns or warranties, order tracking and other features that your customers will appreciate.
Multi-store capacity

Launching any additional channel, like a webshop directed to another country, another region or brand, are tasks that need to be solved quick & easy. Setting up a store with a different language and currency will not be a problem with the right B2B ecommerce platform.
Mobile

Finally, a B2B ecommerce platform with a mobile app, opens the door to interaction with customers where they spend most of their time – in devices. In addition to the possibility of smooth and constant interaction with your brand, it opens a direct communication bridge that can be used wisely, like sending "push" notifications on the device with a reminder that it is time to order from you.
The advantages of B2B ecommerce for manufacturers are obviously attractive and should not be missed. We must not forget that today's customer is a professional who, when out of the office, is also a consumer who constantly interacts with
B2C ecommerce
and expects the same ease of use and speed from a B2B platform. However, it doesn't mean we have to duplicate B2C systems and strategies and simply apply them to B2B ecommerce – each business is unique and must be considered appropriately.
Book a demo to learn more about our outstanding manufacturing solutions regardless of complexity